Grapes Hill Community Garden Press Releases
July 2010
We are pleased to announce that our lottery bid for £50,000 has been accepted by the Big Lottery Community Spaces fund. We are now in the process of putting together tender documents and are looking for a suitable landscaping contractor to work on the hard landscaping.
The location of the garden is a derelict piece of land which would otherwise be left neglected by the council. The project is bringing our community together to turn the site into something we can be proud of. It will provide a safe, accessible open space for quiet recreation, skill sharing and gardening for the whole community.
Following extensive consultation, we have arrived at a DDA compliant plan which includes raised beds for food growing, composting area, water collection system, a village orchard of dwarf stock local fruit varieties, berry borders of soft fruit, bee hives and bee beds, drought resistant grassy areas under existing trees, sealed gravel seating area with herb and aromatic planted borders. There will be a small circular lawn area with natural wood forms for play, trellis and climbers will be planted to run along the whole length of the adjacent properties and controlled root bamboos for sound and movement and screening. There will also be various artworks incorporated around the garden. There will be a pedal powered fountain, pergolas for shade and to grow climbing fruit.
Access will be by foot and bicycle and paths around the site are wide for easy access. The garden will be open to all to enjoy every day during daylight hours.
We hope to increase awareness of public space and environmental issues by showing what can be done in a small public space to address issues such as biodiversity, local food growing, carbon reduction, water and energy sustainability, air quality, at the same time as creating a lovely space to enjoy in the heart of the City. Biodiversity will be created by employing a mixture of permaculture and agro forestry principles. We need to be careful about planting trees to avoid obscuring light to adjacent residences, but shorter (dwarf stock) trees, shrubs, perennial vegetables and groundcover plants at different levels with inter-planting will enable us to pack in a wide variety of species into a small space. We also aim to incorporate plants that attract bees, other insects and birds. In fact we intend to keep bees on the site and already have an apiarist on board. Once established we will use the contents of the garden - flora, fauna, rainwater harvesting, pedal powered fountain, etc. as an educational resource for environmental issues.
The Project will help improve people's health and mental wellbeing by providing enjoyable outdoor physical activity, social contact and learning opportunities to raise self-esteem. The surrounding area falls into the top fifth percentage of deprivation. Many local residents live in flats or houses with no garden. Having an attractive, welcoming green space within walking distance for quiet recreation will enhance mental and emotional well-being.
The perception of residents is that the area is not a nice place to be, in terms of crime and antisocial behaviour, but our project will work with our PCSOs who have been consulted on the design of the garden. They are also hoping to bring in young offenders (minor crimes) to "volunteer" and therefore take ownership of the site. This is part of the "restorative justice" principle. By transforming a derelict site into one that looks and is cared for will increase positive opinions about the area. We have also secured £9,400 of Home Office "Respect" funding for railings and gates to secure the site overnight.
The Project will create more social cohesion and opportunities for people to interact. Within walking distance of the site there are two primary schools, a sheltered housing scheme for the elderly, a day care centre for disabled adults, a community centre, and a homeless centre. All of these are aware of the Project and will be able to enjoy the garden. The Group is ethnically diverse and the project is already acting as a conduit for bringing together different ethnic communities as evidenced by attendance at our regular meetings, fundraising gigs and our February Awareness Day 2009.
The Project is creating opportunities for volunteering, not just in creating the garden but in the on-going activities planned there. For example food growing, bee keeping, garden maintenance, celebration and fundraising events.
The Project has already created new links between and amongst community organisations and the Local Authority and will build on these new links with different activities such as learning sessions.
[Go back to the main News and Events page]
May 2010
£3000 is needed to complete security for our garden.
The Grapes Hill Community Garden Group is appealing to local companies and businesses to fund the cost of some rather splendid iron gates to secure the garden at night time. Having been awarded £9,400 in January, specifically for iron railings, we were approached by three Norfolk engineering companies. Having looked at all three quotes the group has decided to appoint K Rackham and Son Engineering Ltd who come with some excellent references. Examples of their railings can be seen all over Norwich including the Cathedral Close and many city parks.
The £9400 was granted as part of RESPECT funding provided to Norwich City Council by the Department of Children, Schools and Families (DCSF) in recognition of Norwich's work to tackle Antisocial Behaviour as a RESPECT Action Area.
However to fully secure the site we need a further £3000 to make the gates which will be topped by an ironwork arch with the name of the garden and year of inauguration. On completion the garden will be open to the public everyday during daylight hours. Any local businesses or groups that are interested in funding these gates will be acknowledged in signage, added to our list of sponsors on our website www.grapeshillcommunitygarden.org and on all our letter footers etc.
The group is currently waiting to hear if their application for £50,000 made to the Community Spaces Big Lottery Fund has been successful before beginning construction of the garden.
We hope to hear by June and then will be inviting companies to tender for the work with the help of Mark Ashurst of A Squared Architects Ltd and Andrew Morton QS. Any landscaping and construction companies who might be interested in bidding for this work can make preliminary enquiries using the contact details below. If successful in our lottery bid we would be hoping to start on the hard landscaping in July.
The garden has been designed by Lara Hall, a City Hall Landscape architect paid from a separate Community Spaces development grant and from the group's various fundraising activities. The design is based on several community consultations. Andrew Morton QS has worked out the expected cost of the project on a no fee basis. The group is particularly grateful for this generosity that enabled it to complete the lottery bid.
Please visit grapeshillcommunitygarden.org for further information and to view photos and plans, or email contact@grapeshillcommunitygarden.org. Tel: 07729 540 482.
[Go back to the main News and Events page]
August 2009
£800 needed to pay for professional design that will help qualify the project for a £50,000 Lottery grant.
Lots of people have been asking what is happening, as the garden site has not been developed since our very successful Community Awareness Day back in February 2009 (funded by a Community Participation Fund from Norwich City Council). To find out what has happened behind the scenes, visit our newly launched website created by Jeremy Bartlett of Design Different. To progress further we need more support from the local community!
Thanks to some free legal advice from Birketts LLP, we finally signed the lease in July 2009 which Norwich City Council handed over to the community for a peppercorn rent of £1 a year. We carried out all the appropriate searches using part of a £500 community award from the East of England Co-operative Society. We have passed the initial screening stage for a lottery grant of £50,000 but still have a few hoops to jump through before being awarded this money.
One requirement is that we produce more detailed plans and with this in mind we have appointed a Norwich City Council landscape architect, to draw up plans based on the comments and suggestions made by the public during our the community awareness day. These plans will be on display on the website as soon as they are finished. However we cannot start on these plans until we have raised the £800 fee.
The Lottery fund requires us to appoint a Lead Professional and we also need an Accountable Body to handle our finances. We can pay for such services out of the £50,000 award.
Information of what is involved is available on request - please contact
contact@grapeshillcommunitygarden.org
if you are interested in helping us out in this way.
The draft plans will also be on display for feedback and comments at our next fundraising gig on Saturday October 10th, 7 – 11.30pm at the Belvedere Centre. The very popular SweetBeats have agreed to play and there will be other supporting acts. If you are interested in performing see contact details below. Tickets are £6 in advance (see website for details) or £8 on the door but hurry as the SweetBeats always sell out when they play at the NAC! Funds raised at this event will pay for next year's governance including public liability insurance.
To sum up our intentions we hope to improve community cohesion and resilience by working together to create and maintain a beautiful green space for all to enjoy. We hope to provide food for the community using some rather non traditional agro-forestry principles, and to incorporate bee keeping and therefore flowering plants to attract bees and other insects for the local bird population. Other ideas are a sensory / aromatic area for the blind and partially sighted, full disabled access including raised beds, a small orchard, natural play for children and a pedal-powered fountain. Groups can apply to take responsibility for an area or raised bed.
We eventually hope to add some historic information about this site and use it as an educational resource (both historical and environmental) for local schools and children's groups. In short we aim to create a peaceful place for recreation, gardening, skill sharing, water collection and composting.
Grapes Hill Community Garden Group is calling for local volunteers, from all backgrounds and age groups to help with this rewarding project by offering materials, tools, time and labour. Ideally we need some sponsorship from local businesses or individuals within Norwich to pay the £800 fees to a landscape architect to get this project going. This is now crucial. Please let us know that you may be interested in helping us via contact@grapeshillcommunitygarden.org
Our next meeting is on Wednesday 26th August at the Belvedere Community Centre on Belvoir Street from 6.30 – 7.30 pm. We are looking for more people to volunteer to join our small committee or to just turn up to find out more.
For more information email: contact@grapeshillcommunitygarden.org. Or phone Fran Ellington on 07729 540 482.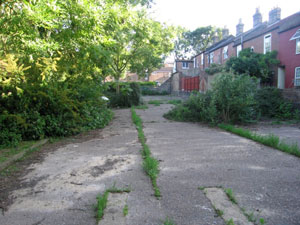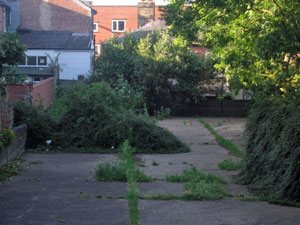 The Garden site as it looks now. Left to right: Looking South and Looking North.
[Go back to the main News and Events page]