Photo Gallery for Summer 2013
Visit to Bowthorpe Community Garden - Saturday 8th June 2013
Grapes Hill Community Garden Group members received a warm welcome at the Bowthorpe Heritage Group Community Garden. The garden was created over ten years ago on the site of a nineteenth century barn. Although we've had a cold spring, the garden is now looking lovely. Highlights included swathes of Sweet Rocket and Oxeye Daisies, the raised beds (adopted by individuals and groups) and the history wall, built with flints from the former barn, and featuring the history of the site. And the tea and biscuits were pretty good too!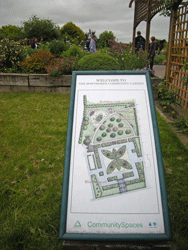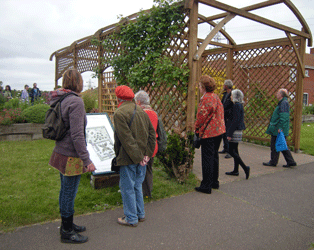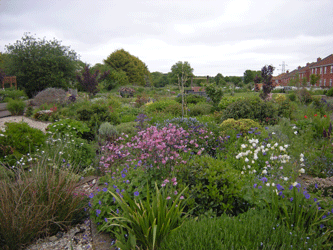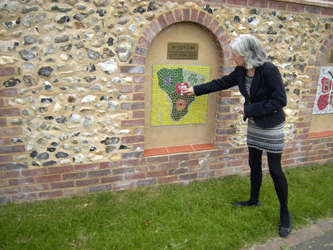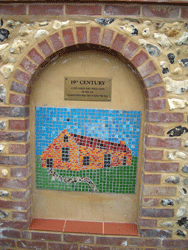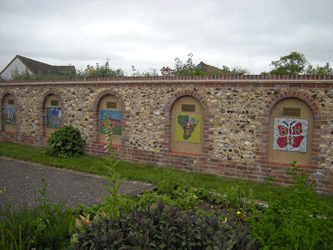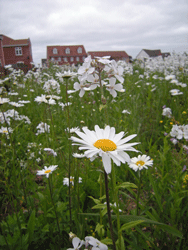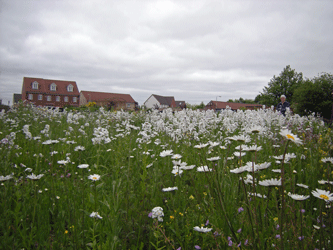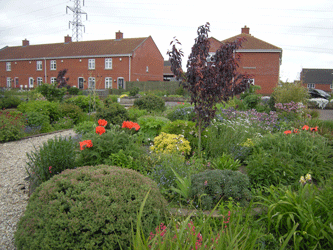 Photos by Jeremy Bartlett. View more photos on Facebook here.
Go back to the main Photo Gallery page
The Big Lunch - Sunday 2nd June 2013
The weather was fine and pleasantly warm for the garden's Big Lunch on Sunday 2nd June 2013.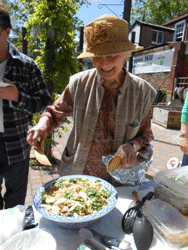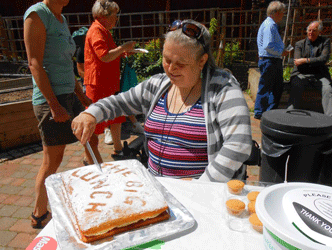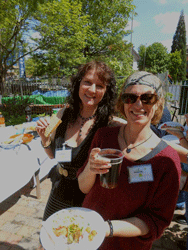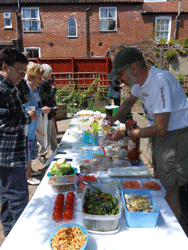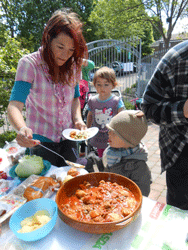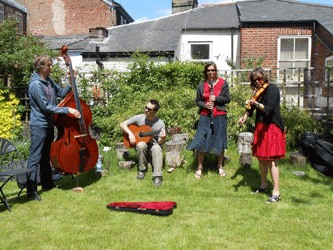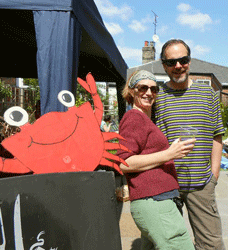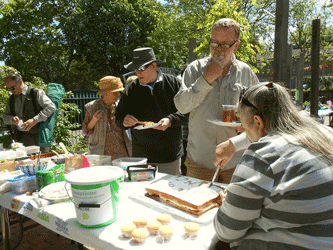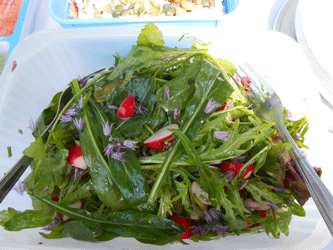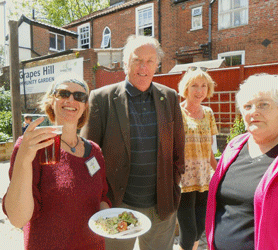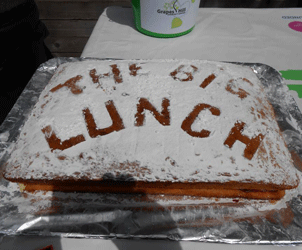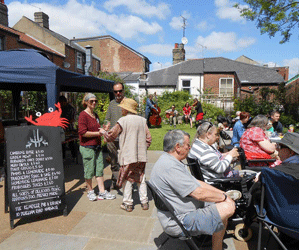 Fran Ellington writes: "On June 2nd we hosted a bring-and-share Big Lunch as a way of reaching out to our neighbours and encouraging them to come and use the garden. Our local pub, The Reindeer, sold tapas to complement the shared dishes, plus wine and real ales. Dan and Jamie from the Reindeer clearly enjoyed a Sunday afternoon in the sun! Everyone really enjoyed the acoustic set provided for free by Misto, a four-piece band: violin, guitar, clarinet and double bass. They played some entrancing Eastern European gypsy music plus one Klezmer piece. We are really grateful to Misto and our other buskers for playing for free.
It was amazing to see some of our neighbours enjoying themselves in the community garden and, most importantly, enjoying the company of people they might never have talked to before. Many thanks to all our volunteers who helped plan and organise the event, set up, clear away as well as manning the information stall. We managed to raise £80 on the day which included four new memberships, raffle takings and donations.
We seem to have developed a small but reliable and willing crew of helpers and this is the only reason the Community Garden runs so smoothly. I would encourage more people to get involved next year. If you do not feel confident enough to bring a dish to share then why not just bring some sandwiches for you and your friends or family."
Photos by Jo Rice. View more photos on Facebook here.
Go back to the main Photo Gallery page